The shelter has many great supporters who help give deserving dogs care and shelter until they have found a forever home. Every donation means the world to us, and the dogs too. THANK YOU!
Dogs Forever residents and volunteers are so grateful to have an additional Play, Exercise & Training (PET) area available. We have come a long way from our initial single play yard and could not have done it without the support of our great community!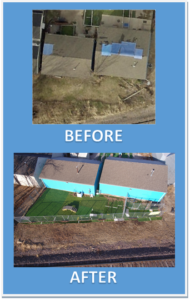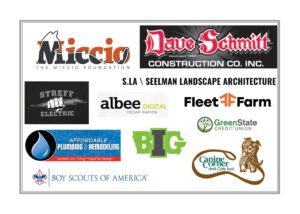 This project would not have been possible without the Miccio Foundation's gracious grant and the assistance of several local groups.
Dave Schmitt Construction for hauling and leveling truckloads of fill dirt – pro bono!
Bret Seelman (of Seelman Landscape Architecture) for surveying the area and recommending invasive tree and shrubbery removal – pro bono!
Streff Electric, Affordable Plumbing & Remodeling, and Albee Digital for assistance with cost of materials and labor!
Green State Credit Union and Fleet Farm for providing monetary donations!
Glenda Fillenworth (of Canine Corners and Cats Too) for donations of chain-link fencing!
Iowa BIG students for asking area businesses for donations and taking drone photos of the progress!
Nathan Lockhart (of Boy Scouts of America) for his assistance with several parts of the project including, but not limited to, tree and railroad tie removal, fence assembly, turf installation, pipe extension channeling, shed and training staircase assembly, dog waste station purchase and install, and much more!
---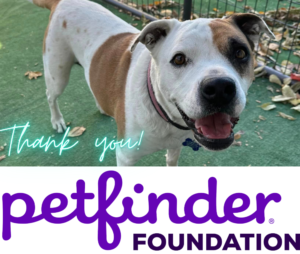 Like humans, older dogs can develop aches and pains. Fortunately, the Petfinder Foundation offers a grant to promote the adoption of dogs, like our 8-year-old Scarlett, who are categorized as seniors. Grant funds may be used to offset the expense of treatable age-related conditions as well as standard costs such as food and vet exams. Kudos to the Petfinder Foundation!! Thank you for awarding Dogs Forever with your PetFinder Foundation Senior Dog Grant for our sweet Scarlett!